Brunch Around the World With SUGARCANE raw bar grill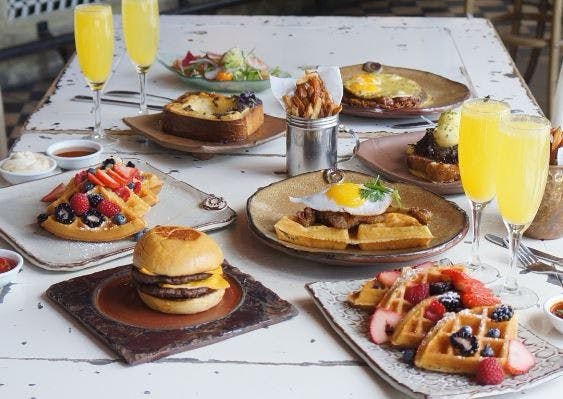 Every weekend, all over America, millions stumble out of their beds en route to brunch with friends. But in Miami and Las Vegas, SUGARCANE raw bar grill is kicking brunch up a notch! In Miami, Saturdays will never be the same with live music by Los Clasicos de Cuba and bottomless mojitos and sangria; and in Las Vegas at SUGARCANE raw bar grill, every day is a weekend – and therefore, we offer our brunch menu, including bottomless mimosas…every day of the week! So in the spirit of our globally inspired menu, we decided to take a look at where this distinctly decadent late morning meal came from, and how friends and family enjoy it around the world… Brunch is believed to have taken its roots from "hunt breakfasts" in England during the late 1800s. These meals consisted of freshly caught meat, eggs, stews, and fruits. The first documented use of the word "brunch" appeared in an 1895 Hunter's Weekly article entitled "Brunch: A Plea". The article was written by Guy Beringer who suggested an alternative to the heavy, meat based meals in favor of a lighter, more cheerful meal. By the 1930s, the brunch phenomenon hit Chicago, as the Windy City marked the halfway point of transcontinental train journeys taken by Hollywood stars. At the time, brunch was exclusively for upscale members of society as they were able to get away with drinking alcohol, disregarding Prohibition. In the 1950s, brunch became more widely known with post-World War II families looking for a weekend respite. Since then, brunch has continued to grow exponentially, partly due to its prominence in pop culture. Today, people enjoy brunch all across the world. Many are used to the usual brunch staples like eggs benedict or dim sum, but we took a look at some of the less well-known yet equally delicious global dishes:
The PhilippinesTapsilog
The simple yet tasty Filipino dish consists of beef slices (tapa), fried garlic rice (sinangag), and fried egg (itlog).
SpainTortilla Española
The Spanish version of an omelet is made up of a layered potato frittata that is held together by beaten eggs. The popular Spanish dish can be devoured warm straight out of the pan, or saved for later and enjoyed cold
Egypt Ful Medames
This long-time favorite has existed since Ancient Egypt and is a spicy broad bean dip. The dip is infused with spices like cumin, coriander, garlic, tahini, and lemon. To fully enjoy the dip, it is usually paired with warm pita breads.
Jamaica Ackee and Saltfish
Ackee, Jamaica's national fruit, has a buttery, egg-like consistency and goes perfectly with salty cod. The dish also includes an array of spices, tomatoes, and onions.