Calling all rum lovers, enthusiasts and newbies!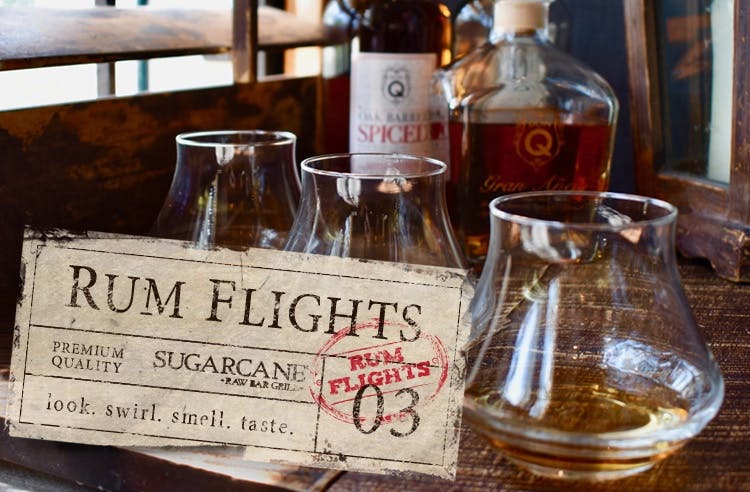 From Miami to Las Vegas, we are proud to offer some of the most diverse premium rum selections on the market. At our home in Miami, the bar features a collection of over 80 rums from different regions, including the Caribbean, South America, Central America and North America.

And now, we're sharing the rum love by making it fun and easy for all our guests to enjoy some of the best rums on our list by offering rum tasting flights.

Longtime SUGARCANE raw bar grill friend Guillermo Gordillo, South Florida Manager at Don Q, explains that rum tasting flights are "a sampling of three different rums — different ages, 1-ounce serving of each rum in individual glasses." When it comes to choosing what rums to feature, Guillermo adds, "It's best to offer rums from different regions to enjoy a good sampling."

The three flight options on the menu in Miami feature Don Q from Puerto Rico; Brugal, Zacapa and Mount Gay from the Caribbean; and Diplomático from Venezuela.

When guests choose our new Puerto Rican rum tasting, they will experience three different rums from this region: Don Q Barrel Spiced, Don Q 2007 and Don Q Gran Añejo. All three rums are produced in Ponce, Puerto Rico and aged in white American oak.

Did You Know? To be considered Puerto Rican rum it needs to be aged for a year and a half — minimum!

But even when we're immersing ourselves in the diverse tastes of rum, it wouldn't be a SUGARCANE raw bar grill experience without some bites! To complement the rum, Guillermo suggests: "añejo rum pairs well with a juicy steak, and sushi would pair with a 2007 single barrel rum."

Whether you're new to rum or have tried all 80+ rums on our menu, we are excited to celebrate the rums from across the world with you through these new flights. Join us in Miami and host your own rum tasting party – we'll meet you in the garden patio!

Fun Fact: Chef Partner Timon Balloo's favorite rums are Diplomático and Barbancourt 5 Star. And, both are offered at SUGARCANE raw bar grill Miami!

Rum flights are offered at $25-$45. Take a look at our full rum list here.