Celebrate National Chicken Month With This Recipe!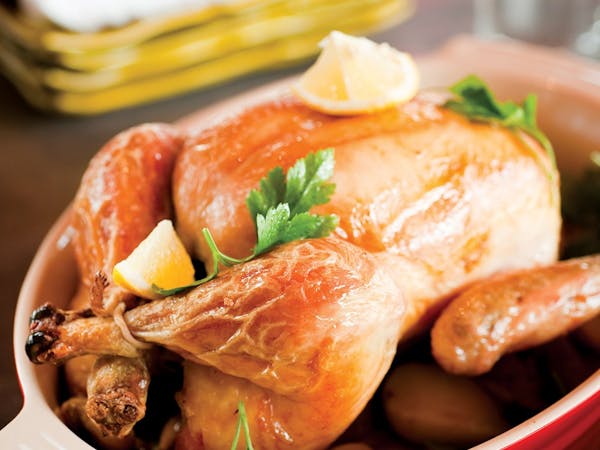 Happy National Chicken Month! To celebrate, we're sharing Chef Partner Timon Balloo's mouthwatering Whole Roasted Chicken recipe so you can bring home a taste of this SUGARCANE raw bar grill favorite, which Thrillist called "the best dish of its kind on The Strip"!
WHOLE ROASTED CHICKEN
Serves six.
INGREDIENTS
1 handful mixed herbs (rosemary, thyme, parsley)
1/2 lemon
1 shallot, smashed
4 cloves garlic, smashed
2 tbsp. extra virgin olive oil
DIRECTIONS
Season and stuff chicken cavity with herbs. Season outer area vigorously with salt, pepper and extra virgin olive oil. Roast at 325° for 30 minutes, then raise temperature to 400°. Cook until golden brown or until meat thermometer reads 165°. Remove from oven and let sit for five minutes. Cut, serve and enjoy!



Be sure to share pictures of your own Whole Roasted Chicken by tagging @sugarcanerawbargrill on Instagram!