EXPLORING DUMBO: A Q&A With Dumbo BID Executive Director Alexandria Sica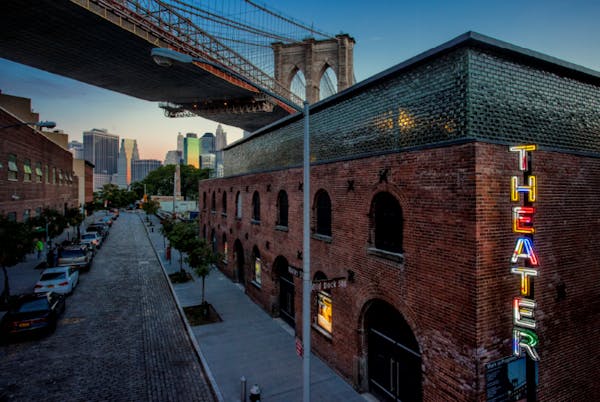 As announced in The New York Times, the globally inspired sharable dishes and artisanal cocktails of SUGARCANE raw bar grill are Brooklyn-bound this summer. Once a center of manufacturing and industry, Brooklyn's Dumbo (Down Under the Manhattan Bridge Overpass) is now one of the trendiest neighborhoods in New York.
So with construction of the restaurant underway in the 150-year-old Empire Stores building, we sat down with Alexandria Sica, Executive Director of the Dumbo BID, to take a closer look at our new surroundings.

How would you describe the personality of Dumbo?
Dumbo is an artsy old soul, with a quintessential New York appetite for blazing trails and relishing in the good life.
Can you tell us how Dumbo has changed and grown in recent years?
Dumbo's become very popular in recent years – as a major economic driver with the explosion of our start-up scene; as a tourist destination with the opening of Brooklyn Bridge Park and Jane's Carousel; and as a top choice for families in search of a great neighborhood experience for their kids and a feeling of connection to their community.
What are some of your favorite spots in Dumbo? How would you recommend someone new to the neighborhood experience it?
My favorite spots in Dumbo include the bar at Superfine, the benches sitting under the Manhattan Bridge in Brooklyn Bridge Park, and the cluster of independent shops on the east side of the neighborhood along Jay, Front, and Pearl Streets. You can get fabulous locally made gifts, adorable clothes for the kids, and really good design pieces all around one city block.
Can you tell us about the Dumbo BID and what you do?
We are a non-profit neighborhood cheerleader – kind of like a chamber of commerce and parks department all in one. Our members are businesses, property owners, and residents, and we do everything from keeping the streets clean to commissioning public art to celebrating everything that makes Dumbo shine.
What is some of the upcoming programming in Dumbo that we can look forward to?
The neighborhood comes alive all summer long with a farmers market in the Pearl Street Triangle every Wednesday, free concerts and art events every Thursday night in the Archway Under The Manhattan Bridge, community recycling events, bike parties, fashion shows, and much more.
---
Stay tuned for more news on the SUGARCANE raw bar grill Brooklyn opening. In the meantime, check out the dynamic range of DUMBO happenings at www.DUMBO.is.
Photo Courtesy of the Dumbo BID.