Hudson Horns Live at SUGARCANE raw bar grill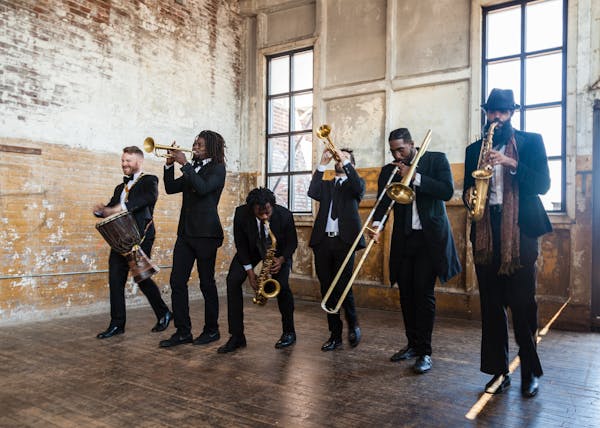 Brunch in Brooklyn just got more fun – Hudson Horns have arrived at SUGARCANE raw bar grill! Every Sunday, the restaurant is filled with the infectious musical stylings of this beloved local band, featuring everything from hip hop and reggae to classic jazzy riffs.
We sat down with Jake Kenowitz of Hudson Horns to learn a little more about SUGARCANE raw bar grill's favorite brass band.
How did Hudson Horns begin?
Hudson Horns began three years ago playing for Daybreaker, a fun morning dance party that takes place at different venues around the city twice a month. From there, the band has evolved into three bands centering around brass instruments. The band can range from 3 horns performing with a DJ to a 12 piece international touring band. The band is comprised of some of the best young talent New York has to offer. Members have performed with industry leaders such as Rihanna, Solange, Ricky Martin, Vic Mensa, Joe Jonas, Roy Hargrove, Dave Chapelle, The Skatelites, and Legendary Johnny Oneal.
How would you describe your style of music? What is Hudson Horns "known" for?
Hudson Horns is known for creating amazing dance parties leaving audiences wanting more. We love putting brass-infused elements into genres such as hip hop, reggae, trap, blues, soul and funk. It's a unique show every time! Crowd interaction is also a huge part of Hudson Horns. We always invite audiences to participate, which transforms the shows into a more collective experience. At shows you can expect choreographed dances, mini parades, shout call responses, and on the spot song requests!
Why do you think Hudson Horns is a good fit for brunches at SUGARCANE raw bar grill?
The team at this beautiful new space right on the Dumbo waterfront is a dream to work with; they've really trusted us to bring our unique vibe every Sunday. We've developed a great relationship that really benefits our performances – we feel comfortable expressing ourselves and taking musical chances to create a brunch you really can't find anywhere else in the city.
Besides weekly at SUGARCANE raw bar grill, where else can we see you guys play?
Fans can see us at Radegast Beer Hall, The Django at the Roxy Hotel, Circa Brewing Company, Brooklyn Bowl, Daybreaker morning parties, and pop up food/music festivals around the city.
All-time favorite song to play?
We recently wrote a new song called "Mississippi Jo" about our trombone player Jovan. The song has a New Orleans and Gospel vibe the musicians love to play. When we play the song, we really take off and give every musician a chance to shine.
Favorite dish at SUGARCANE raw bar grill?
Bacon wrapped dates!
---
Book your table for brunch in Brooklyn by calling 718.473.9555!
Visiting us in Miami? We have live music there too! Join us for Saturday brunch featuring Los Clasicos de Cuba. Book your table by calling 786.369.0353