Main content starts here, tab to start navigating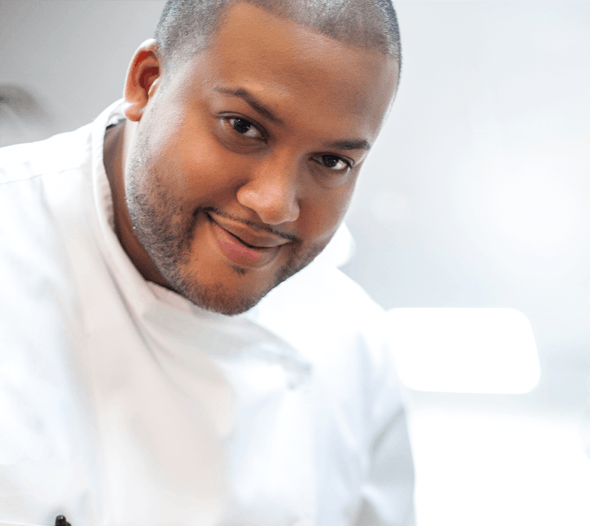 Timon Balloo
Chef Partner
As the culinary heart of SUGARCANE raw bar grill, Chef Partner Timon Balloo draws from his broad range of influences and experiences to bring bold, global flavors to every dish on the menu. From his own Chinese, Indian-Trinidadian heritage to his classic European training, to the diverse kitchens in which he built his career, each step along the way has led Balloo to become the chef he is today.
Born to multiethnic parents, Balloo grew up with food steeped in culture – a typical dish in his home was stir-fried Caribbean vegetables with Asian spices. While other kids were watching cartoons, Balloo was watching Yan Can Cook on PBS. With a childhood so rich in epicurean curiosity, it was no surprise when he began his official journey toward a stellar career as a chef.
Through the international program of extended studies at Johnson & Wales, Balloo traveled to Belgium to work at Hotel Métropole in 1998. Under the French Master, Chef Dominique Michou, Balloo honed his classical culinary training skills by working his way up from entremetier comis (hot line) to patisserie comis. Of that time, Balloo recalls: "The vegetables and animals would often come straight from the farm. It wasn't unusual for us to have to skin and pluck the next dish… now that was farm-to-table cooking!"
Balloo considers his first real professional lesson – on humility in the kitchen – to have been taught by "Professor" Allen Susser, one of Miami's most influential chefs. "In Chef Susser's kitchen, you were broken down and then built back up," Balloo explains. "My time cooking at Chef Susser's gave me a new respect for food."
Balloo went on to become Junior Sous Chef at Azul in Miami's Mandarin Oriental Hotel under the leadership of Michelle Bernstein, Balloo's greatest mentor. While he cultivated his expertise of Asian cuisine at Azul, Bernstein helped him hone his own signature style. "She taught me to cook from my heart," he says, "and as such, I started to craft my own approach to food, infusing it with what I like to call 'Asian-Caribbean soul.'"
From contemporary Spanish cuisine at La Broche in Miami to the intersection of Japanese, Brazilian and Peruvian dishes at SUSHISAMBA in New York City, Balloo eventually earned Executive Chef status.
Through the use of simple ingredients to create great food, Balloo started to form his signature style: the juxtaposition of bold flavors made for sharing, prepared on small plates. He partnered with Amir Ben-Zion to launch Domo Japones in Miami's Design District; the Japanese concept highlighted one-of-a-kind ingredients in a former post-office-turned-restaurant. Balloo's menu was awarded three stars by The Miami Herald and voted "Best Japanese 2008" by Miami New Times.
An opportunity to reconnect with Samba Brands Management in 2009 brought Balloo back to the growing restaurant group as Chef Partner of SUGARCANE raw bar grill, which opened in 2010. It was here that he was able to bring together everything he had learned about global flavors and techniques. Shortly after the restaurant's debut, SUGARCANE raw bar grill was named a James Beard Awards semifinalist for "Best New Restaurant" and Balloo was dubbed "The People's Best New Chef" by Food and Wine. Since then, the accolades have never stopped for this chef who is, as the Miami Herald wrote in its three-star review, "as much a fusion of cultures as the eclectic menu he's been refining without pause."
"SUGARCANE raw bar grill has played a major role in Miami's food scene since opening. We're committed to pushing the culinary envelope every day," he says. "But our warm, casual vibe will never change – that's a mainstay of the brand in which we all take a lot of pride."